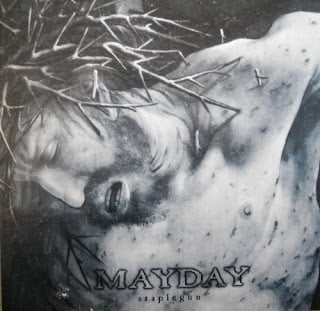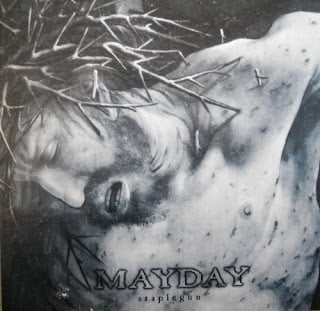 MAYDAY "Staplegun" 10"
£10.00
DEAD STOCK. Jojo of legendary Stormstrike Records found a box of long sold out Mayday 10"s. Absolutely must.
Probably best known for their "Les 120 Journes de Sodome" split 7" with Integrity, while everything they recorded was fucking outstanding, their final release, "Staplegun" (1995), remains the best of the bunch. Probably never actually referred to as having the "holy terror" sound back in the day, but Mayday most certainly did right down to the visual imagery and lyrical content and were significantly ahead of their time in terms of pioneering a completely dark, twisted "metalcore" sound that falls somewhere between the chugging rhythms and abstract subject matter of Integrity and the eerie atmospheric dissonance and sick vocal sneers of Starkweather, without sounding like either of those bands. There are just a lot of pulsing rhythms with super thick basslines interspersed with clean passages often accentuated by subtle little noise textures and general weirdness buried deep in the mix not to mention the maniacal vocal work.
Black vinyl. 10" vinyl.
If you live in Europe (EU) choose "Belgium" as shipping option.
Outside of EU please choose "Everywhere else". Thanks